Mary Trump's assessment of her uncle who, at the age of three, was effectively abandoned by his parents while his mother was in hospital.
The comments by various individuals make for interesting reading on the man presently in the White House.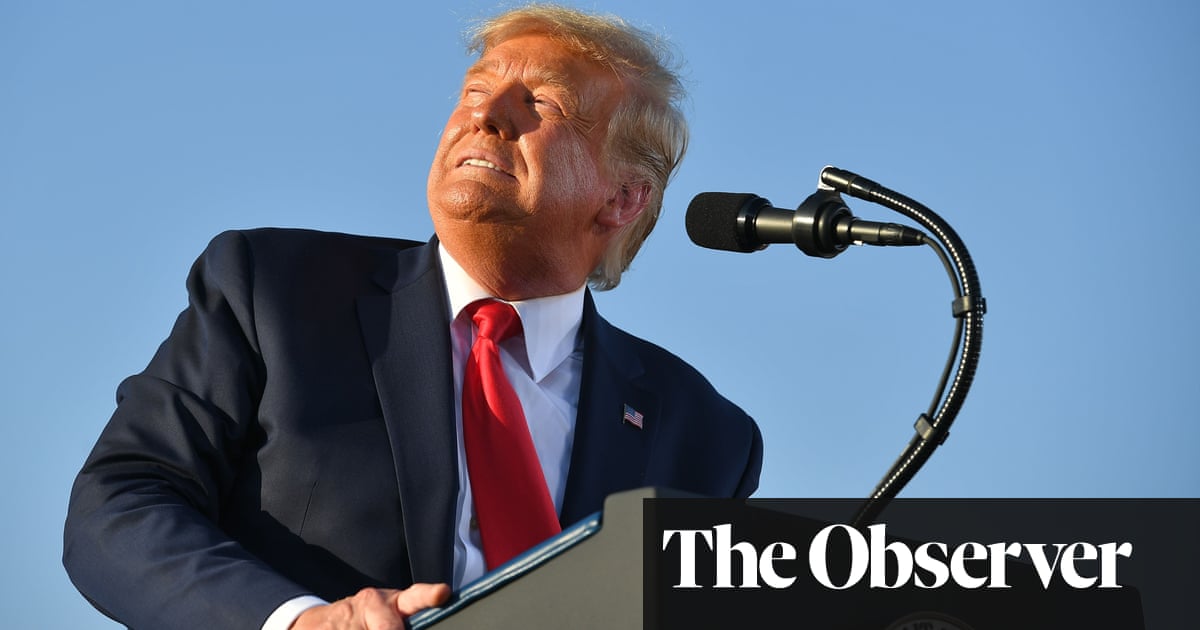 The authors of recent exposés, including Mary Trump and Anthony Scaramucci, on the president, his time in office – and what they expect to happen at the polls

www.theguardian.com
Bob Woodward:
"There is an atmosphere in Washington of high anxiety. Trump is melting down, to put it charitably. His campaign has been about lashing out, about wanting his former political opponents – President Obama and Joe Biden, who's now running against him, of course – to be indicted then charged. Then there was his announcement that he is not necessarily going to accept the electoral result against him. The idea that the president would put in doubt the basic process of democracy and voting is not only unacceptable, it is a nightmare."
Mary Trump:
"I've always believed that deep down Donald is a terrified little boy. The amount of fear he's feeling now has got to be unhinging him. Not only did he get sick with the virus, there's the tax story and his prospects in the election looking really bad right now. He's got to be absolutely panicked.[...] Since Donald was elected, I've been surprised by nothing he's done or said. But I have been shocked by the wholesale abdication of responsibility by the Republican party during this election campaign and throughout the past four years. I didn't understand the extent to which they would be willing to enable him in Congress and in his cabinet. If they had done their job and acted as a separate branch of government, he would have been contained. By siding with him 100% of the time, they have ensured we are now faced with several concurrent disasters that are getting exponentially worse"
John Bolton:
"People complain that Trump has a short attention span, myself included. But when it comes to his own re-election he has an infinite attention span. Decisions are made not on the basis of the pros and cons of the policies being debated but on what the domestic political blowback could be. Every president takes politics into account but with Trump it's qualitatively different. It's not just a factor. It's the factor.

Everything is a distinct transaction – maybe that's how you're successful in the real-estate business. If he doesn't see the immediate bottom line impact, he wants to move on to something else. For example, with our close allies, he says things like: "Here we are defending you and you don't pay for our bases and you have trade surpluses with us." Well, we're not there to defend them. We're there because we have a mutual defence alliance. We think it's in our interest as much as the allies' interest to be forwardly deployed. We're not there as mercenaries. And we wouldn't want to be there as mercenaries. But he doesn't get that."
Anthony Scaramucci
: "In our country we're so polarised now you have to hate the person you disagree with. But I don't hate Donald Trump. If anything I'm somewhat sympathetic to him because there's obviously something wrong with him. There's a screw loose and you don't have to be a psychiatrist to see that. You just have to look at the manic behaviour, the absurdity, the lack of maturity. He's not a fully developed adult. He's out there doing ridiculous things and I fear for the world and I fear for the country. There's something wrong with him and the people around him are too afraid of him to intervene on his behalf.

He talked about "draining the swamp" but the swamp is now like a gold-plated hot tub. He's taken the corruption up to a whole new level. I think if he loses the election, it's over for him. I don't see how he can survive this. He'll probably get indicted. However, if he does, he probably won't serve in jail – I don't think America likes putting its ex-presidents in jail. So he'll most likely get prosecuted with his sentence commuted."