I'd suggest that all believers have created their own ideas of God.
That would indeed make sense to you. You are after all looking for excuses to avoid responsibility for yourself. This is part of what God's hardening your heart looks like..... you keep giving excuses (which you view as valid reasons).
Psychotic? No. Mistaken? Yes.
Is eternity in the lake of fire, living in utter darkness and despair worth it? Why be mistaken when you can actually know?
We read in the New Testament letter of 1 John --- these things are written that you may know that you have eternal life, and that you may believe on the name of Jesus Christ.
No, you engaged him on your terms.
All I did was ask him. He's the one who decided to answer me and did so exactly as he said he would.
So, are you sure that it was on my terms?
Do they know me? Sounds like they don't want to put there name to something that might have them held up to ridicule.
Perhaps. But, since none of those whom I'd invited took me up on my offer, I'd say that the people who are afraid of ridicule are you, and the other atheists who decided that mocking me was a better idea than to make the trip and find out firsthand, for themselves.
Nice excuse though. It just adds to the reason why I find atheism the belief of cowards.
I.e., this too is part of what God's hardening your heart looks like.... you keep demonstrating by your words and actions you don't want to know the truth, and one day, you'll be past all hope of salvation.... not because God hasn't reasoned with you. But because you don't actually want to know.
Doesn't say much for the strength of their conviction.
Remember.... you're the one who refuses the invitation to engage in discussion about my metastatic melanoma cancer diagnosis with the medical doctors who were my caregivers during my illness treatment and since.
So, don't talk to me about lacking the courage of their convictions .
It only further adds to my view that atheists really are the ones who lack the courage of their convictions.
Another example of what God's hardening your heart looks like.... You affirm your desire to not know the truth, So, he acknowledges your preference to not know him, and affirms/strengthens/hardens you.
An idea that comes to mind here is that of the case-hardening process of metals used in car motors.
Are you familiar with the metal hardening process?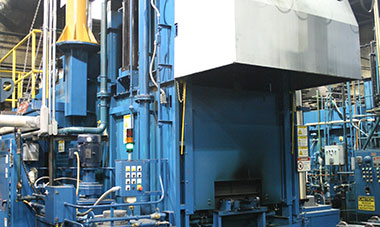 Metal case hardening (surface hardening) is one of the most efficient heat treatment methods. Learn more about this process from the experts at SST.

www.sst.net
This is similar to what you're doing to yourself, with respect to God.
All you're doing is excluding yourself from experiencing the forgiveness, and cleansing of your sin, and the restoration of a relationship with God.
Why would me coming there and asking the question in person provide me with anything more than their written testimony?
That's a you thing.
When you question my integrity regarding the experience I've had with my cancer, and then mock the doctors who've repeatedly stated that I am a miracle, it places you in a really bad light, and makes you appear as someone who is too afraid to learn the truth. So, I'm thinking that giving you the opportunity to make a trip, and talk about it with them, first hand, and meet with me to discuss it firsthand, it'll demonstrate that I'm telling the truth about it and about Jesus.
So, if you don't actually have the courage of your own convictions, then you should stop talking and just recognize that you're full of feces and don't have a leg to stand on.
It's not a very flattering position to put yourself in, by your own choosing.
Apart from knowing you didn't write it yourself.
Read above.
Because people don't generally doubt that they aren't doing what every other sensible person would do.
Irritating, isn't it!
In my world, I'm thinking that it has to go beyond what other "self-perceived-sensible" people are doing. Especially in light of the statements made--- there is a way that makes sense to a man, but the end result is death.
Just like the majority of people consider themselves better than average drivers.
And yet there are many people who are dangerous drivers, as well as excellent drivers.
Can you take a course in "common sense"?
Yep!
Just not in an educational institution.
Other terms we've used to describe common sense is- the school of hard knocks, street smarts, and some others.
Another way to say it is to learn from our mistakes.
I didn't think Jesus had said it. I would have remembered that.
Actually, YHVH said it. Paul just quoted it.
What?
You said "Don't use things that you haven't actually done before. It's a bad practice."
Following that advice none of us would ever do anything.
You told me something that was quite clear you'd never done before. So, instead of telling me something you've never actually tried before--- do it first, work through the issues inherently associated with it, and then we can discuss it.
Imaginary friends are like that.
It's a good thing I don't have any imaginary friends.
Seems like you might though.
You keep telling me that you never actually met Jesus, yet you continue arguing that you can't, and shouldn't have to know him.
That's what the Bible says so it doesn't have to back up it's claims.
I could believe that there is a God that is the creator of the cosmos.
I cannot believe that same God is behind the Bible.
Ah. Well, sounds like your imaginary friend is telling you what you're allowed to think.